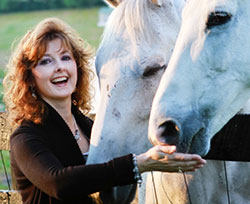 THANK YOU for taking the time to check out our Starter Merchandiser special discount offer for first-time customers. I know you'll like it!
This display features a selection of tantalizing equestrian charms dangling from elastic bracelets which are offered in attention getting colors. These are our best selling styles.
The Starter Merchandiser display is two-sided and spinnable. The elastic bracelets are adjustable to comfortably fit all sizes.
The 25% discount will apply to this order only. The Starter Merchandiser arrives ready to be placed near your cash register. Each item is bar coded and pre-priced with a 55% gross margin.